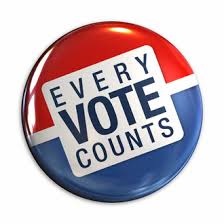 ---
---

All voters registered in California are eligible to vote in all statewide elections.
Register or update your registration online by October 2022 to receive your ballot in the mail for the Election on November 8, 2022. After that date and through election day, you can register at the County Registrar's Office, a polling place or vote center. Call the Registrar for details and hours.
Sierra County votes by mail; ballots are mailed approximately 29 days before election day and must be postmarked by election day.  If you have not received your ballot by 20 days before the election contact the Sierra County Registrar's Office and explain the problem.
Mailing your ballot is safe and secure. To avoid anxiety, be sure to mail your ballot early, sign and date your envelope. As long as your envelope is signed, postmarked by election day and received by November 15, 2022, it will be counted.
On Election Day, we recommend dropping your ballot at a Vote Center. You can find the locations of ballot drop off locations in your county voter information guide, your county elections website, or at Vote.Ca.Gov starting mid-October 2022. Drop boxes are tamper-proof and ballots are picked up at regular intervals.
Yes, you may drop off a ballot for a friend or neighbor. California voters are allowed to choose someone they trust to deliver their ballot for them. If you help someone complete or deliver their ballot, be sure that they sign the appropriate signature line on the envelope.
Same day registration:  Eligible residents of California can register or re-register if moved, up to and including election day with a conditional ballot.  The registration information will be verified before  your ballot is counted.  Contact the Registrar's Office for more information if this circumstance applies to you:  530-289-3295.
Election Day is Tuesday, November 8, 2022
Presidential races will  include a candidate from the Democratic, Green, Libertarian and Republican Parties.  The candidate who wins at least 270 electoral delegates will win regardless of the national popular vote.
Congressional, State Senate and Assembly races will be a November run-off of the two voter-nominated candidates who won in the June primary, regardless of the candidates' parties.
Local candidates (county) required 50% plus one vote to win in the primary otherwise the race will be a run-off of the top two in November.
Eastern Plumas Healthcare District election – vote for 3 of 4 candidates.
Measures